Make Your Own Book
Print and cut the pages below and add your own original artwork.  Be sure to sign your name on the cover and ask a grownup to help you bind the pages.  Have fun reading your very own book and find out how Ziggle learns to shine!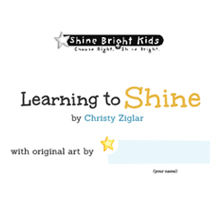 Grownups –  Print the pages on standard 8.5 x 11 paper.  Each single sheet should be cut across the middle to become 2 pages for the book (each book page is 5.5" high by 8.5" wide).  Pages should be attached on the left-hand side and will be landscape/horizontal orientation.  Take the time to read the story together and talk about some of the special gifts and talents that make your child unique.
Extra note:  If the dotted line is not centered after printing, make sure the "do not scale" button is checked in your printer preferences.